Builder Waste Clearance

As experienced industry professionals, we know that building and construction sites are often customers that require Waste clearance the most often, and in the highest quantity. Even relatively small construction sites can generate vast amounts of rubbish that can be problematic to the tradesmen and sometimes their own clients. If you are working in an environment around London that creates a great deal of waste, you need a fast and efficient waste collection service that will allow you to get on with the job.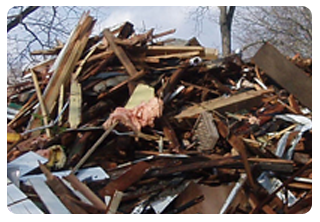 That's where G&P Junk Removal comes in. We always tailor our services to our customers' requirements, and we are fully aware of the needs and problems that arise at construction sites. That is why our builder waste clearance service is capable of removing any quantity of rubbish, and is especially apt at ridding you of the large amounts typical of construction sites. We can take any kind of builder's waste, whether its bagged construction trash, old timber or piles of bricks, so you can feel assured that the waste obstructing your site can be gone in very little time. Using our builder waste clearance service will leave you with a clearer, more easily survey-able site; an especially important factor on large building sites.

We are fully insured to carry out any necessary rubbish clearance, and are Safe Contractor approved. We have ISO 9001 Quality Assurance so you can be confident that your waste collection will be handled professionally, and the waste will be disposed of properly and in accordance with industry regulations. We are particularly mindful of health and safety for builder waste clearance jobs, as we appreciate that construction sites can potentially be hazardous, and always take all necessary precautions. And remember, all of the waste we collect is recycled whenever possible.

Does our builder waste clearance service sound like the ideal solution to your own construction waste issues? Don't hesitate to be in touch for a competitive, free quote. You can contact us by telephone on: 0208 776 7050.
Alternatively email us at: info@gp-junkremoval.co.uk
Our office hours are: Monday - Friday 8:30am - 5:30pm and Sat 9:00am -3.00pm