WEEE Disposal

As technology advances and an increasingly rapid rate, so too does the amount of electrical items being thrown out each year. Unfortunately, this can be awkward for those wanting to safely rid themselves of bulky electronic equipment, and more seriously, creates a broad environmental concern. Waste clearance of electronics is tightly regulated by EU law, and by the Environment Agency, to ensure that discarded electronics cause as minimal an impact on the environment as possible.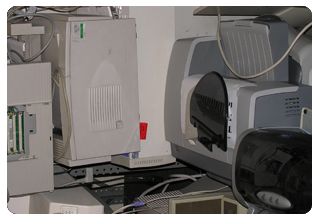 However, corporate offices, IT departments and computer nerds can rejoice! G&P Junk Removal offers professional and eco-friendly WEEE disposal in London, WEEE meaning Waste Electrical and End-of-life Electronics. Our helpful staff are trained to deal with the collection of electronic equipment, and will dispose of it at an authorized WEEE treatment facility. If your office has recently undergone computer upgrades and you are based in London, we can quickly and effectively clear the old hardware, without creating distractions in the workplace. Even if you are simply throwing out your old printer, we can collect it at a time that suits you.

Our WEEE disposal is always carried out in compliance with the Environment Agency's regulations, and, as always, all electronics we collect are recycled wherever possible.
Because some electrical equipment has been classified as hazardous under the Hazardous Waste Regulations (2005), we always operate with health and safety in mind when completing WEEE clearance jobs. If required, you will be provided with all the necessary paperwork, such as a consignment note or a waste transfer note, and we will make sure that all your paperwork is in keeping with the Environment Agencies regulations, preventing you from receiving penalties.

G&P Junk Removal is Safe Contractor approved, has ISO 9001 Quality Assurance and is fully insured to carry out any necessary work. We have had extensive experience in waste clearance and we know that whatever your requirements, we can meet them with professionalism and efficiency.
Take advantage of our great services to all your WEEE Disposal and recycling worries.
Just call G&P Junk Removal today and speak to one of our helpful and friendly team members to discuss your requirements.
Telephone: 0208 776 7050
You can also email us at: info@gp-junkremoval.co.uk
Our office hours are: Monday -Friday 8:30am - 5:30pm and Sat 9:00am - 3.00pm.
---
Coverage Areas: