Plasterboard Clearance
If you have waste plasterboard that is in need of removing and require plasterboard clearance in London area, you must be careful how you go about it; 2009 European Legislation prohibits plasterboard from being treated like other waste, and simply sent to landfill. Plasterboard must therefore be re-used, land-filled separately or sent to a specialist plasterboard recycling facility in order to meet the necessary legal requirements.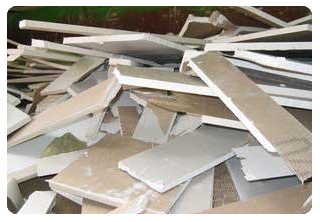 Luckily, you won't need to be concerned with any of this! G&P's Rubbish clearance service includes swift and safe collection of plasterboard, and you can be assured that it will be disposed of legally, following all relevant industry regulations. From small single boards, to enormous piles of plasterboard, we can come at a time that suits you and have it all gone in little time. We always ensure that everything is left clean and tidy before we go, so you will always have a stress free experience when using G&P Junk Removal.
Our staff are extremely friendly and helpful, and always carry out all plasterboard clearance in accordance with industry regulations. We are a family company and understand the need to provide the best price possible for our customers, and so always offer competitive quotes, as well as making sure that each individual customer is satisfied with our service. We also understand the importance of thinking about the future, and therefore we always recycle where possible and are firm promoters of re-use.
G&P Junk Removal is Safe Contractor approved, has ISO 9001 Quality Assurance and is fully insured to carry out any necessary work. We have had extensive experience in waste clearance and we know that whatever your requirements, we can meet them with professionalism and efficiency.
Do you have plasterboard that needs to be gone? Our plasterboard clearance London service is the perfect solution. You can contact us by telephone on: 0208 776 7050. Alternatively, email us at: info@gp-junkremoval.co.uk.