Commercial Junk Removal London

We are a leading independent provider of commercial Junk removal in London. We can ensure that your business remains clean and healthy and that it gives your clientele a wonderful impression of your company as a whole.
We work to ensure that each and every customer is completely satisfied with our services. We offer a range of commercial assistance from window and carpet cleaning to Junk removal and Office clearance to help you to keep your business environment clean. We are a family owned company which gives you the personal touch that you desire and we can handle jobs of any size.

We are passionate about cleaning and ensure that our customers receive the highest level of support and cleaning services in the industry. Since 1988 we have been providing London and the South East with quality and dependable cleaning services for commercial needs.
We have established an excellent reputation for providing businesses with quality commercial junk removal in London area.
Clients are invited to arrange regular meetings with our operations manager and we can provide you with a direct line to our directors as well. Our goal is for your business to be the cleanest in the region and we work particularly hard to ensure that you get the cleaning services that you require.

We are confident that we can meet your business needs. We invite you to learn more about our commercial cleaning services or Contact us for a quote today.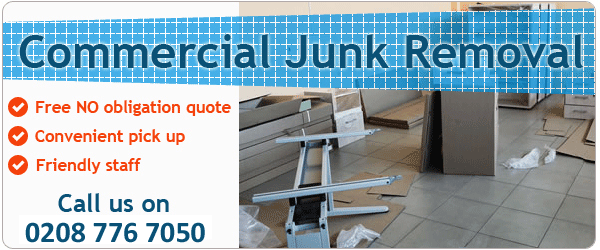 Take advantage of our great services to all your Commercial Junk Removal and recycling worries. Just call G&P Junk Removal today and speak to one of our helpful and friendly team members to discuss your requirements.
Telephone: 0208 776 7050
You can also email us at: info@gp-junkremoval.co.uk
Our office hours are: Monday -Friday 8:30am - 5:30pm and Sat 9:00am - 3.00pm.