Void Clearance
G&P Junk Removal runs a quick and effective void clearance service in London, for customers who require waste collection from void properties. This service is, of course, highly popular and very useful for clients such as Housing Associations, Estate Agents, Property Management companies and Facilities Management companies. We are experts at dealing with void clearance jobs and can handle bulky waste collection with ease.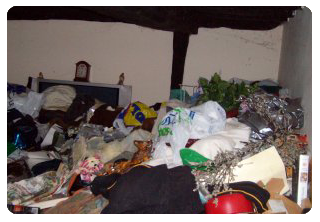 Whether you need simple disposal of household items such as freezers, ovens and wardrobes, or if you need entire floors of furnishings collected, we can handle the job. We are also highly experienced in WEEE clearance (waste electrical and electronic equipment) which is regularly a requirement for void clearances.
When it comes to void clearance, we certainly appreciate the importance of speed and efficiency; we often have to work to extremely tight deadlines. G&P Junk Removal will work to your schedule, to make sure that the property it cleared when you need it to be cleared. Our teams are polite and understanding, and always do their utmost to meet all of your needs. All void clearance work will be carried out in accordance with strict health and safety regulations. Our team will respond to your request quickly and thoroughly to clear the waste, as rubbish located at void properties in particular attracts fly tipping.
G&P is fully insured to carry out all forms of waste collection, and is Safe Contractor approved. We also have ISO 9001 Quality Assurance, so you can be confident that your waste will be cleared professionally, and disposed of responsibly. We always promote re-use and recycle everything that we possibly can.
If you think our void clearance service could be exactly what you need, please contact us for a free, no obligations quote. You can call us on: 0208 776 7050.
Alternatively, you can email us at: info@gp-junkremoval.co.uk Our office hours are: Monday -Friday 8:30am - 5:30pm and Sat 9:00am – 3.00pm