Domestic Junk Removal

Sometimes you simply do not have the time or resources to rid your home of junk. G&P Junk Removal Services understands this and offers the highest level of satisfaction with our domestic clearance services. We can rid your home of unwanted items and offer quality satisfaction and affordable pricing.

Our domestic waste collection services are unsurpassed. We provide junk removal throughout London and the South East and can ensure that you never again have to worry about having unwanted junk sitting around your home.

We are a family owned company and will provide you with a personal touch that you will not get with any other domestic cleaning service. We can handle jobs of all sizes and will work with you to find removal options that best fit your time and budgeting needs.

Your home is your castle and should be treated as such. Having junk lying around will simply cause you to feel self-conscious about how your home looks. We can help you to relax in a cleaner and more efficient home by removing rubbish for you and giving you the clean look that you want your home to have.

Since 1988 we have been providing the UK with quality commercial and domestic cleaning services. Our goal is to meet your specific needs and produce a cleaner and healthier environment for you. We hire only the most trustworthy cleaners and ensure that each is thoroughly trained to provide you with the high standards of quality that we are reputed for having.

Whether you are moving, planning a major event at your home in London or simply have junk that you need removed, we can handle your domestic cleaning needs whatever they may be. We invite you to learn more about our cleaning services or contact us for a quote today.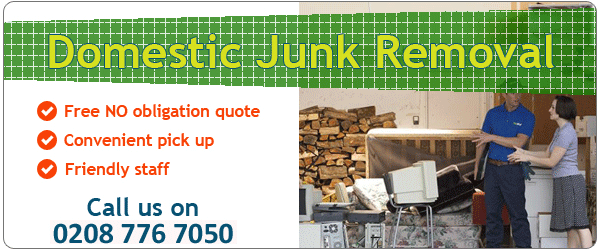 Take advantage of our great services to all your Domestic Junk Removal and recycling worries. Just call G&P Junk Removal today and speak to one of our helpful and friendly team members to discuss your requirements.
Telephone: 0208 776 7050
You can also email us at: info@gp-junkremoval.co.uk
Our office hours are: Monday -Friday 8:30am - 5:30pm and Sat 9:00am - 3.00pm.